About Erinan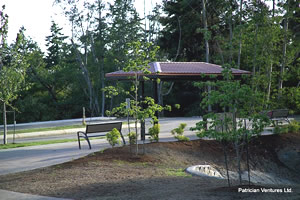 The Erinan Legacy
Welcome to Erinan Estates. The name "Erinan" is derived from the names of Eric and Nancy Butler, a couple that arrived in Sooke in the 1940s and established a deep and wonderful history here.
Eric J. Butler was one of the founding brothers in Butler Brothers Supplies and Logging. Eric spent many years working in these woods, along with many of the families still living in Sooke today. Using the rock from these lands, Eric aided in the reconstruction of the Whiffen Spit breakwater. In honour of this area's history of logging, you will notice many of our roads are named in logging terminology.
Over the years, Eric contributed his time to many events and organizations in Sooke, such as "All Sooke Day" and "The Sooke Philharmonic Society". Nancy has also worked with non-profit organizations, such as "The Sooke Women's Institute" and the "Sooke Community Association".
It has been with honour and pride that we, the "continuing generation" under the guidance of Nancy Butler, have created this development as Eric had envisioned, forever leaving a family legacy on the lands he loved.
- The Butler Family
Project Overview:
Large 14,000 sq ft plus lots
Spectacular ocean views
Underground services: sewer, water, natural gas
Upscale feel with wide curving boulevards, mature plantings, spacious sidewalks & attractive streetlights
Character & integrity of the landscape retained through mature trees & rocky outcrops
Gently sloping easy build sites
Extensive trail network throughout this master planned development
Moments from the fast growing Sooke core with its' soon to come medical center, marine boardwalk, award winning dining options & vibrant arts community
Comprising more than 250 acres, the future vision includes a neighborhood commercial centre linked by walking trails and green space with single family lots and strategically placed attached units that provide opportunities for changing family needs and lifestyles
Community
Sooke is located on the south western tip of Vancouver Island, British Columbia, Canada, a scenic 40 minute drive from BC's capital city Victoria.
As a part of a temperate rainforest, Sooke has one of the mildest climates in Canada. Typically warm and dry in the summer, the weather is very agreeable. Winters also are mild with rainfall and a rare snowfall.
One of the fastest growing areas, Sooke became incorporated in 1999. Law enforcement defers to the RCMP and the volunteer fire department is well equipped. Parts of the community are served by a municipal water system and some of the more rural areas are served by private wells and community water systems. Garbage collection is done on a private basis through two main service providers. There is a growing business section in the downtown core, good schools, sports facilities and an excellent museum.
Sooke offers a variety of recreational activities reflecting its natural surroundings…excellent fishing, boating, and hiking are available. There are an abundance of parks and nature trails including the Galloping Goose Trail, East Sooke Regional Park, Roche Cove Regional Park, Whiffen Spit Park, Ed MacGregor Park, Sooke Marine Boardwalk, Sooke Potholes Provincial Park, the world-renowned West Coast and Juan de Fuca Trails as well as Botanical Beach at Port Renfrew. Sooke also offers great surfing and whale watching.
It is a popular tourist area boasting world famous restaurants and a large number of private Bed & Breakfast facilities and Country Lodges tucked away in the woods and on the waterfront. There is also a government wharf and private marinas.
Sooke supports a wealth of interests including music, drama, arts, photography, gardening, and team sports through community organizations. A major annual juried art exhibition, the Fine Arts Show, is held each year at the Sooke Region Museum.
Sooke's diversity offers something for everyone!
Click for more info:
Sooke Elementary
Saseenos Elementary
John Muir Elementary School
École Poirier Elementary School (French Immersion)
Journey Middle School
Edward Milne Community School